Are Bath Bombs Good for Your Skin? - Vitabath Products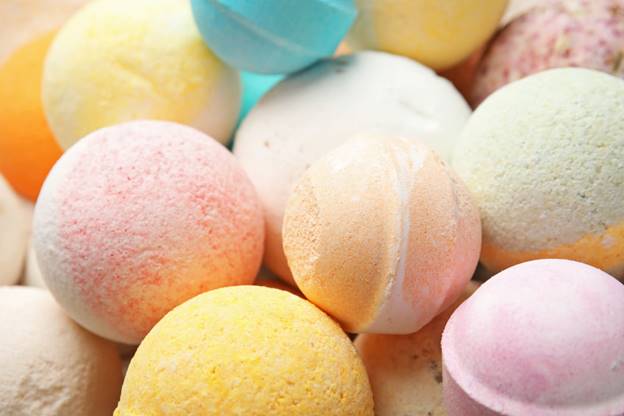 Bath bombs can be sensational for your skin - or not - depending on the ingredients used in the particular bath bomb you choose. While you may initially opt for a bath bomb for its foaming bubbles and fizzy fun, you don't want to irritate your skin along the way. Select a bath bomb that contains carefully chosen ingredients known for enhancing your skin as well as your overall bath bomb experience so all you have to do is relax and enjoy at-home spa luxury.
Ingredients to Look for in a Bath Bomb
Bath bombs designed to soften, nourish and enhance your skin are likely to contain a number of key ingredients. These ingredients include:
Epsom Salt: Choosing a bath bomb that contains Epsom salt brings on several benefits for your skin. Epsom salt is known for naturally softening skin while strengthening the skin's barrier to help retain hydration.
Coconut Oil: Keeping skin hydrated is also at the top of the list of benefits for coconut oil, another essential bath bomb ingredient. Coconut oil has also been shown to reduce acne and inflammation.
Grape Seed Oil: Known for increasing skin's softness and elasticity, grape seed oil is a key ingredient that helps enhance skin's moisture as well as its ability to repair itself.
Superfruits: Opt for a bath bomb that contains antioxidant-rich superfruits, and your skin is in for a super treat. Some of the best superfruits for enhancing skin include pomegranate, coffee, green tea, mangosteen, acai, noni and goji.
Ingredients to Avoid in a Bath Bomb
In addition to skin-nourishing ingredients you want to look for in a bath bomb, there are several ingredients you want to avoid. The most common irritants in bath bombs and bath soaks include alpha-isomethyl ionone, linalool and limonene.
Certain bath bomb fragrances and dyes can also be irritating to some, especially those with sensitive skin. That makes it wise to look for a bath bomb that incorporates essential oils for fragrance and minimal dyes for color.
While you're at it, you're best off choosing a bath bomb that's also free of gluten, soy, parabens and propylene glycol.
Benefits Beyond the Skin
The same bath bomb ingredients that can enhance your skin can likewise enhance your entire bath time experience.
The benefits of Epsom salt, for example, go far beyond softening your skin. Soaking in a tub with an Epsom-salt-infused bath bomb can also reduce stress, increase relaxation, alleviate inflammation and pain, and soothe tired muscles. Because Epsom salt contains magnesium, you can also naturally increase your levels of this all-important mineral.
Choosing a Bath Bomb that's Good for Your Skin
Once you've assessed all the information on what makes a bath bomb good for your skin, making the choice is easy. Vitabath® Foaming Bath Bombs contain the essential ingredients for nourishing and soothing your skin, avoid ingredients you don't want and bring on benefits that enhance your entire bathing experience.
Our alluring bath bomb fragrances include Pomegranate Bellini Blush™, Cucumber & White Tea, Heavenly Coconut Crème™, Coconut Noir™, Lavender Chamomile and Cool Spearmint & Thyme™. Do your skin a favor, choose Vitabath Foaming Bath Bombs.