Best Lotion for Extremely Dry Skin - Vitabath Products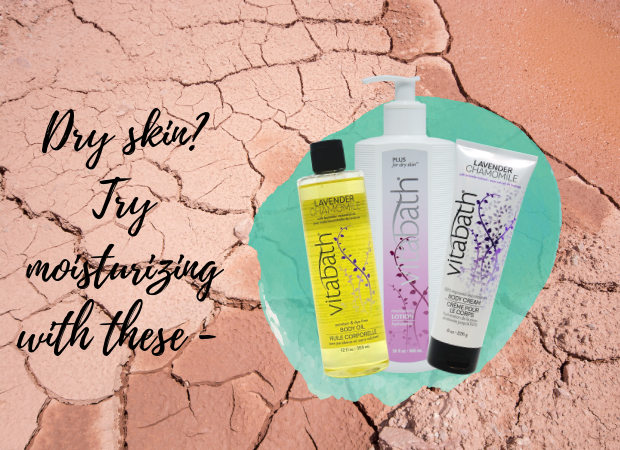 Whether your skin gets dry in the winter, or you could use a moisturizing boost all year round, you need a body lotion that transforms dry and itchy into soft and supple. You'll find it by looking at a body lotion's ingredient list. The best lotion for extremely dry skin will contain several skin-enhancing components that leave your skin revived and smooth as silk.
Best Lotion for Extremely Dry Skin Ingredients
The four key ingredients you want to look for in an ultra-moisturizing skin lotion all happen to be derived from natural sources. These ingredients are:
Aloe vera

Shea butter

Vitamins, specifically vitamins A, C and E

Amino acids
Aloe Vera in Skin Lotion
Derived from inside the leaves of the aloe vera plant, aloe vera is a cooling component that's been used to help with everything from sunburns to minor scrapes and cuts. It also does a fabulous job moisturizing your skin.
One of its top benefits is the ability to soften your skin without clogging up pores. Another is its ability to hydrate skin as well as fighting aging, as it contains key skin-enhancing vitamins of E, C and beta carotene, the precursor to vitamin A.
Shea Butter for Dry Skin in Winter
Shea butter is an oil that contains beneficial fats that can do wonders for dry skin and other issues. The oil is derived from the shea tree, officially known as the karite tree. The best body lotion for dry skin in winter will contain shea butter, which helps the skin retain moisture when faced with harsh elements or conditions.
Like aloe vera, shea butter softens the skin without clogging pores, leaving the skin supple and moisturized but still able to breathe. Shea butter is also particularly helpful to rough patches, dry cuticles and cracked heels.
Vitamins A, C and E for Extremely Dry Skin
The best lotion for extremely dry skin will contain a lineup of vitamins, namely vitamins A, C and E.
Vitamin A: Extremely dry skin gets a boost from vitamin A for its powerful moisturizing properties. As an antioxidant as well, this vitamin helps your skin stand up to free radicals. It's an essential vitamin for your skin's appearance and how it feels.
Vitamin C: Vitamin C is ideal for extremely dry skin for its ability to fight aging as a natural antioxidant, reduce inflammation such as blemishes and soothes skin irritations.
Vitamin E: This vitamin has the power to restore lost moisture, particularly in damaged and dry skin areas. The vitamin also offers nourishing effects to smooth your skin's surface and boost its defense with this antioxidant.
Best Skin Lotion for Extremely Dry Skin Has It All
Vitabath® Moisturizing Skin Lotion covers all the bases. The slate of skin-softening and nourishing ingredients make it the best body lotion for glowing skin, dry itchy skin, for dry skin in winter and, of course, the best dry-skin lotion all year round. Shop Vitabath Moisturizing Skin Lotion today.