Father's Day Gift Guide - Vitabath Luxury Products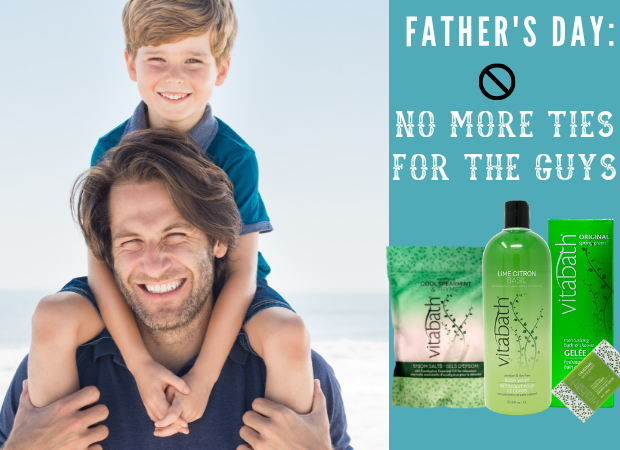 There are only so many neckties any man can handle receiving as Father's Day gifts. Please don't get him yet another one. Instead, check out the Vitabath® Bath and Luxury Products Father's Day Gift Guide, where you'll find unique gifts for men they may not necessarily buy for themselves.
Father's Day Gifts for Dads
You're proud of your dad and want him to look as dapper as he deserves. One way to do that is with a luxury facial grooming kit. Treat clean-shaven dads to the closest shave with a high-end electric razor. Gift the beard-sporting dad with an amazing beard trimming kit. Philips Norelco even makes a beard trimmer kit that automatically vacuums as dad moves along, giving him ultimate convenience to match ultimate precision.
Add one more perk by additionally providing ultimate cleanliness, which you can do with Vitabath Bar Soap. Unlike traditional soaps that dry out skin, Vitabath bar soaps are crafted out our Moisturizing Shower Gelée, which soothes the skin as it cleanses. Original Spring Green™ Bar Soap is a good pick for dad, letting him enjoy the vibrant scent of patchouli and pine while he washes.
Father's Day Gifts for Grandpa
Grandpa has well-earned his opportunity to relax, and you can help him enjoy that relaxation time with a Father's Day gift basket. While you can always order a pre-made gift basket that gives you a set selection of products to include, you can make an extra special personalized basket yourself.
First find a basket or handsome storage container, then fill it with grandpa's favorite treats. Include mixed nuts, mints, cookies and candies you know grandpa adores along with a few other items he'll enjoy but may never purchase for himself. One of these items can be Vitabath Original Spring Green™ Moisturizing Lotion, which provides skin-nourishing vitamins, extracts and botanicals with a scent that appeals to women and men.
Father's Day Gifts for Husband
You can shower your husband with Father's Day love - literally - with Vitabath Moisturizing Bath & Shower Gelée. This sensational shower gel tops the list of best gifts for men because it's not something guys may typically go out and buy for themselves. Even so, that doesn't mean they won't love being treated to it.
Our shower gel formula contains twice the essential ingredients and half as much water as competing shower gels, leaving skin cleansed, nourished and tingling from head to toe. Original Spring Green™ is again the top scent for men, giving him a dose of vitamins, botanicals, extracts and an invigorating blend of patchouli and pine. Get the gallon jug so he can enjoy the experience for an extended period, and so you can share it too.
Since you're already focusing on soothing his skin, you can top off the shower gel Father's Day gift with another invigorating choice: Vitabath Body Oil. Our Cool Spearmint & Thyme™ Body Oil is the idea choice for guys with a skin-enhancing blend of eucalyptus essential oil, tea tree, spearmint, rosemary and thyme. Better yet, add a special touch to this gift by offering a loving massage with our body oil designed to work out his stress.
These unique gifts for men are sure to be a hit for Father's Day or any other chance you get to give a gift that shows how much you care. Browse the full collection of Vitabath Luxury Bath and Body Products for additional gift ideas.