Mother's Day Gift Guide - Vitabath Luxury Products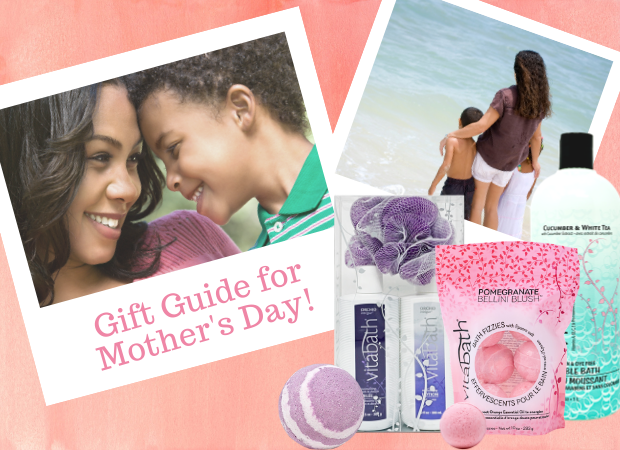 The rules for selecting the perfect Mother's Day gift are fairly simple. Give mom something she'll use, something she'll love and something that makes her feel as wonderful as she makes you feel. That ideal something is waiting for mom at Vitabath®, where you'll find luxury bath and body products that make sensational gifts from kids, husbands and friends.
Mother's Day Gifts from Younger Kids
Young kids love to have bubbly fun in the tub, and they surely want mom to do the same. That means the ideal Mother's Day gifts from young kids is definitely something from the Vitabath collection of bath fizzies, bath bombs and luxury bubble baths.
Vitabath Bath Fizzies bring a burst of fizzing fun to the tub while our Bath Bombs soothe with a foaming experience. Richly luxurious, long-lasting bubbles are at the heart of all Vitabath Bubble Bath formulas. Each luxury bath product is enhanced with skin-conditioning vitamins and our signature antioxidant-rich superfruit complex designed to nourish while cleansing. Choose from a range of enticing fragrances that transform mom's luxury bath time into an at-home spa time.
Mother's Day Gift Ideas from Adult Children
Adult children know how hard mom worked to bring them up right, and you can thank her with a daily pampering experience. Like the products in the Vitabath bath product collection, our body washes and shower gels provide a deluxe experience in which mom can indulge day after day.
Both luxury bath products contain an array of botanicals and extracts chosen for their powerful ability to cleanse the skin, comfort the soul and captivate the senses. Select from a bouquet of brilliant fragrances that range from our calming Lavender Chamomile Body Wash to our enticing Spa Skin Therapy™ Shower Gelée.
Gifts for Wife for Mother's Day
Spouses shopping for Mother's Day gifts for their wives will find a sumptuous way to remind them of their beauty and grace with Vitabath Body Cream. This luxury body product features a thick, rich formulation proven to improve skin moisture by 82 percent.
Go all out by pairing the body cream with the equally dreamy Vitabath moisturizing skin lotions or deluxe body oils. All our skin-moisturizing products contain carefully chosen ingredients designed to leave skin silky, soft, nourished and delicately fragranced with one of our enticing scents. Pamper her with a romantic massage using our body oil to help her de-stress and nourish her body and soul.
Mother's Day Gift Ideas for Coworkers, Neighbors and Friends
Whether you're looking for a Mother's Day gift idea for your favorite coworker, neighbor or friend, you don't have to look any further than Vitabath Fragrance Mist. Not only do our body mists contain a skin-enriching blend of antioxidants and vitamins, but they also come in the most marvelous lineup of fragrances.
Fun and flirty pals may enjoy a fruity burst of Pomegranate Bellini Blush™ while those seeking serenity may enjoy the lusciously soothing Lavender Chamomile Body Mist. Additional choices include Cool Spearmint & Thyme™, Cucumber & White Tea, Coconut Noir™ and Heavenly Coconut Crème™.
Feel free to browse the entire line of Vitabath Luxury Bath and Body Products for even more sensational gift ideas for women that work for Mother's Day or any day you want to provide your favorite lady with the luxury she deserves. Shop Vitabath now.