Shower Gel vs Body Wash - Vitabath Luxury Bath Products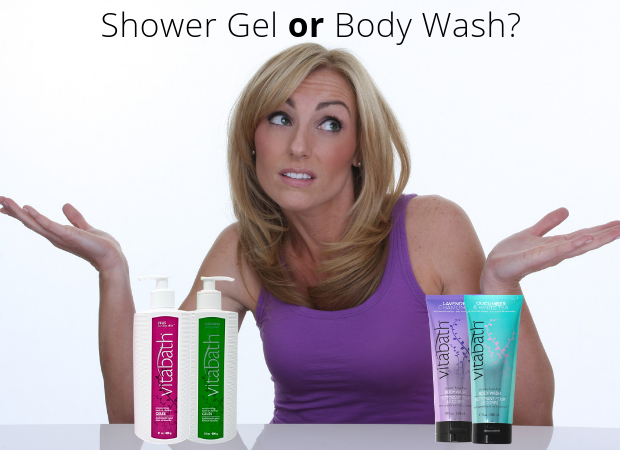 Luxury bath products come in a variety of types, and two essential products for thoroughly cleansing the body are shower gel and body wash. While the two luxury bath products do achieve the same goals of cleansing and nourishing the skin, they go about it in slightly different ways.
Shower Gel vs Body Wash Overview
The first difference you may notice between shower gel and body wash is the appearance and consistency. Shower gels typically have a slightly thicker consistency, while body washes are a bit thinner in texture. Color may also differ with shower gels and shower gelées often featuring deep greens, blues or other hues as compared to the white and foamy appearance of many body washes.
Shower gels boast a rich consistency that's ideal for warmer, humid climates or seasons when you'd appreciate a cooling effect that most shower gels feature. They also work exceptionally well on most oily, sensitive or irritated skin types because they have a moderate level of moisturizers that won't overdo it with your skin's natural oils.
On the other hand, body washes offer a thinner consistency that typically make them a good pick for normal skin. If you have dry skin, consider picking up moisturizing body wash that treats your skin right with lightweight hydration. Colder weather is another great reason to use body washes since skin may become dried out from the outdoor elements or indoor heating systems in that climate.
Shower Gel vs Body Wash Ingredients
While standard shower gels may not be as moisturizing as body washes, the Vitabath® line of Moisturizing Bath & Shower Gelée is an exception. The key to the moisturizing effects is in the ingredients.
Key ingredients in Vitabath Moisturizing Bath & Shower Gelée include:
Rosemary Extract

Sea Kelp Extract

Sunflower Seed oil

Horse Chestnut extract

Vitamins A, B3, C and E plus Pro Vitamin B5
Key ingredients in Vitabath Body Wash include:
Antioxidant-rich superfruits, such as acai, goji, noni, coffee, mangosteen, green tea and pomegranate

Coconut oil mixtures

Extracts of Aloe Vera and Coffee Seeds

Some include safflower seed or eucalyptus oil and extracts from lemons or lavender

Vitamins A, B3, C and E plus Pro Vitamin B5
While vitamins A and E are found in both Vitabath products, the rest of the ingredients differ. One collection focuses on botanicals while the other has antioxidant rich superfruits to ensure our selection offers the best results for your at-home skincare pampering. One set of ingredients is not necessarily better than the other; they just bring on the benefits in slightly different ways.
Shower Gel vs Body Wash Benefits
Both Vitabath products provide a luxurious lather and multiple benefits. Our Moisturizing Bath & Shower Gelée is designed to condition and soften the skin, while our body wash revives and moisturizes. Another benefit of both products is the array of captivating fragrances.
Shower gel options include Vitabath Original Spring Green™, Fresh Citrus Twist™, Plus for Dry Skin™, Orchid Intrigue™ and Spa Skin Therapy™.
Our body wash is available in fragrances that include our Coconut Noir™, Cool Spearmint & Thyme™, Cucumber & White Tea, Pomegranate Bellini Blush™, Pomegranate Blood Orange, Heavenly Coconut Crème™, Luscious Lemon Crème™, Lavender Chamomile and Green Tea & Sage.
The Bottom Line
When it comes to choosing between a shower gel and body wash, the bottom line is to go with the product that is more aligned with the type of home-spa experience you want to create. Fragrance has a lot of bearing on the experience, and that alone could sway your decision. You'll also see that certain shower gels, such as Plus for Dry Skin, are formulated for specific benefits, and the same holds true for our body washes. Our Cool Spearmint & Thyme Body Wash, for example, is designed to provide a cool and invigorating experience, something that was formerly more strongly associated with shower gels.
Regardless of the exact fragrance or formula you choose, you'll enjoy a luxurious, skin-enhancing cleansing experience if your shower gel or body wash comes from Vitabath. Shop for your favorite fragrance (or three!) today.