Bath Bombs Create a Unique Bathing Experience
When it comes to taking a bath, there are typically two ways to go about this. The first is that you can use the moment to get yourself clean and ready for the day. The second is to use that time to create an at-home spa-like experience that will help you relax and unwind or feel refreshed and invigorated.
If you've decided you want to indulge in and enjoy your bath time, then having the best products to create the right atmosphere is important. That's when you might want to consider using bath bombs.
What Does a Bath Bomb Do?
Deciding to add a bath bomb to your tub is a great way to take your bathing experience to a whole new level. If you're wondering what these can do, here are some of the benefits of using foaming, lathering bath bombs in your tub.
1. Nourish Your Skin
High-quality bath bombs are full of emollients and softeners that hydrate and soften your skin. Once you've dropped them into the tub, it foams and bubbles, and you'll notice that the water has a silky-smooth texture to it. That's the luxurious ingredients preparing to pamper your skin.
Bath bombs have the ability to cleanse your skin as well as moisturize it. When adding bath bombs to your bath water, you'll be able to rest and relax as well as get clean. It's a complete experience that will leave you feeling amazing!
2. Create a Luxurious Experience
If you're looking for a way to create a spa-like experience in your home, then adding bath bombs to your tub are an easy way to create a luxurious, opulent atmosphere. Once these products come in contact with water, they will begin to foam into an indulgent lather, turning your bathing experience from something ordinary into something extraordinary.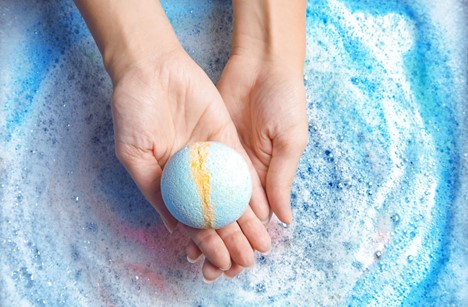 3. Indulge Your Senses
Creating a luxurious environment means indulging your senses, and bath bombs can help with that endeavor. In addition to hydrating your skin and taking your bathing experience to another level, they will also tantalize your sense of smell. If you are looking for a way to feel energized and revitalized, then adding a bath bomb with a refreshing scent, like our Cool Spearmint & Thyme™ bath bomb or Cucumber & White Tea bath bomb, will help. If fruity and vibrant is more your style, reach for a Pomegranate Bellini Blush™ bath bomb instead.
Should you be looking for a way to relax and unwind after a long day, then adding a bath bomb with the relaxing scent of lavender is in your best interest. The Lavender Chamomile bath bomb is a great option right before bed to help you get some much-needed rest. When it comes to getting away without having to leave your house, adding a bath bomb that reminds you of a tropical island can help melt your cares away. With Vitabath®, you have options for your island getaway: the Coconut Noir™ bath bomb with rich plum and cashmere musk or the Heavenly Coconut Crème™ bath bomb featuring sugar and vanilla fragrance notes to life your spirits.
Having plenty of bath bombs to choose from will ensure you have the right product no matter what your mood. They are also a great choice whether you decide to bathe first thing in the morning to prepare for your day or right before bed to help you relax.
Bath Bombs for Every Occasion
At Vitabath, we offer a variety of bath bombs for any and all of your bathing needs. Each one helps you create a bathing experience like you've never had before. We also have a large selection of other products that will nourish and pamper your skin. Find your favorites today!