Best Simple Skin Care Routine for Men - Vitabath®
There are men who don't even have a routine in place to ensure that their skin looks as good as possible, and they're usually put off by all the time it takes and the extra steps involved. If you are one of those individuals who thinks that a skin care regimen means you've got to set aside an hour in the morning and at night, we have good news! There is a simple way to look your best with an easy skin care regimen.
When it comes to a skin care routine for men, it doesn't have to be a long, drawn out process. You don't even have to buy a ton of different products. If you use the right men's products and follow a few quick steps, your skin can look and feel good — and you'll feel more confident too.
Here is the best simple skin routine for men:
1. Cleanse on a Regular Basis
No matter how tough you are, your face and body are still exposed to dirt and grime throughout the day. If this is allowed to stay on your skin, it can lead to clogged pores, which can then lead to breakouts. By washing your face twice a day, you'll be removing harmful elements that could negatively impact your skin.
The best times to wash your face are first thing in the morning when you wake up and right before you go to bed. Obviously, washing your face at night will ensure that you get rid of any dirt or other elements that you were exposed to during the day. Washing first thing in the morning will remove any elements that transferred from your sheets to your skinYou should also be bathing at least once a day to remove dirt and grime from your body. Some of the best products to use for this process include the following:
At Vitabath®, we know that you don't want to dig through tons of bottles while taking care of your skin, so we put all the finest ingredients in one bottle. This Citrus & Cedar Men's All-in-One Wash can be used to cleanse your skin, as well as wash and condition your hair. You can even lather it up into a foam like a shaving product. While you use it, you'll be invigorated by the scent of green citrus and bergamot. Light wood undertones will enhance your manly musk and leave your body feeling clean, crisp and refreshed. More of a woodsy, waterside scent guy? Grab our Coastal Woods Men's All-in-One Wash and enjoy all the same benefits with an aroma perfect for you.
When it comes to making your skin care regimen exhilarating, you should be using the Cool Spearmint & Thyme™ Body Wash. The cooling sensation of the spearmint will lift your spirits, and the eucalyptus will clear your mind. The tea tree, French thyme and rosemary all leave you feeling pampered and refreshed. For those who like warmer, earthier scents, Green Tea & Sage Body Wash is the ideal choice.
2. Don't Forget to Moisturize
Whether you are looking for a skin care routine for older men or to keep your youthful appearance, adding moisturizer into your daily routine is a must. For best results, it's recommended that you moisturize after cleansing your skin. Not only will it keep your skin from uncomfortably drying out, but moisturizer can also help protect it from harmful environmental elements.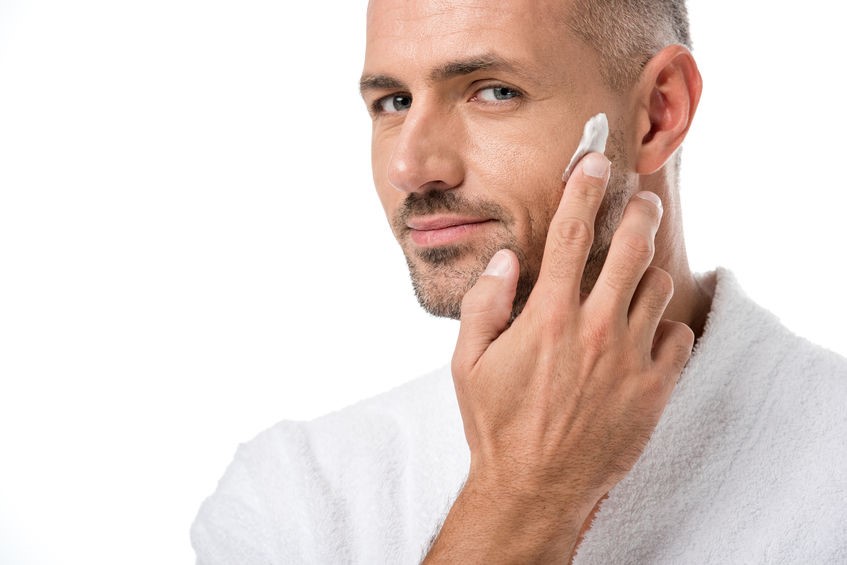 When it comes to pampering your skin and adding hydration, using a daily moisturizer such as the Original Spring Green™ Moisturizing Lotion can leave your skin feeling perfectly soft and fragranced. With a fresh aroma blended with subtle herbal notes, pine, patchouli and rosewood, you'll also be able to indulge your senses. Try other moisturizer scents to pick your favorite.
Taking Care of Your Skin
As a man, taking care of yourself and your skin means you're putting your best self out there. Finding products that make this process quick and easy is more convenient for you too. At Vitabath, we offer a wide range of products designed specifically with men in mind. Discover the one that will work best for you!