Finding the Best Baby Skin Care Products
Taking care of your baby involves more than just getting them clean. Giving them a bath removes elements that might irritate or dry out their skin, but their skin also needs a lot of moisture.
Your baby's skin is overly sensitive. While environmental factors can be irritating, the wrong baby washes and lotions can also make them uncomfortable. Using the right products is crucial to a comfy, happy bundle of joy. If you're looking for the best baby products for skin, you'll want to check out what we have to offer in our BABY products just for little ones.
Baby Body Washes
The first step to protecting your baby's sensitive skin begins in the bath. At Vitabath®, we offer two kinds of body washes to ensure that your baby gets clean while also keeping their skin moisturized and nourished.
Our BABY Daily Wash & Shampoo is infused with Colloidal Oatmeal to sooth and moisturize your child's skin and scalp. The light scent of lavender has also been included, which ensures that the bathing experience is relaxing and stress-free for both you and baby.
For the most hydrating bathing experience you can give your baby, you'll want to use our BABY Soothing Relief Creamy Wash. Like our other baby wash, this one also contains Colloidal Oatmeal to cleanse and soften your baby's skin. It's also free of fragrances and has been tested by dermatologists and pediatricians.
Both of our baby body wash products are tear-free, making them ideal to be used on your child from head to toe. They are the best baby skin care products you can buy.
Baby Body Lotions
After your child gets out of the bath, you need to take their skin care to the next level by using lotions specially formulated for your baby's delicate skin. If you're looking for a lotion that leaves your baby smelling great and keeps their skin hydrated, you'll want to check out our BABY Daily Lotion.
It's recommended that you apply this lotion right after a bath at night, but you might also consider using it first thing in the morning to keep their skin protected during the day. The soft lavender scent will calm and soothe your child, and the Colloidal Oatmeal will keep them hydrated.
If your baby has overly sensitive skin or you're looking for the most hydrating lotion without fragrances, then you'll want to use our BABY Soothing Relief Moisture Lotion. We consulted with dermatologists and pediatricians to develop this 99% natural formula to protect and soften your baby's skin. Apply right after their bath to keep their skin supple.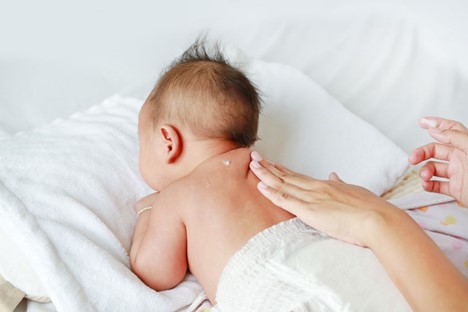 The Best Baby Products
At Vitabath, we pride ourselves on offering products that smell great, get you clean and hydrate your skin. We've worked hard to find the right formulas that take your normal bathing routines to the next level so that you can pamper yourself with a spa-like experience at home. Not only should bathing be an elegant and luxurious experience for you, but your baby should enjoy it as well.
When it comes to the best products to use on baby skin, our products are formulated with your child's special skin needs in mind. Their bath time should be relaxing and moisturizing, and our products achieve both goals. Shop our products today!