Holiday Relaxation Tips — Relaxing Bath Tips
Pampering the body and taking care of the skin are some of the best ways to relax and unwind this holiday season. In your time off, take heed of these holiday relaxation tips to truly enjoy the break from your daily routine. At Vitabath®, we know an at-home spa experience is an affordable indulgence and our ideas to de-stress will help you smile through every photo and party in your busy schedule.
1. Select the Right Scent
Baths may seem like just a basic activity that will instantly relax you as it is. Something to remember, though, is that scents enhance this soothing effect. The amount of scent you have surrounding you, and the better the quality or product you use, will determine the experience of your bath.
Foaming bath bombs are a perfect way to enhance your bath time retreat. Make sure the water is the perfect temperature of not too hot, too hot or however you like it, and right before it's at the height you want it to be, drop the bath bomb in the water. Whether you like to submerge while it is foaming or want to watch it from above, a bath bomb will make your bubble bath more soothing and sensational with a layer of lathering, fragrant foam. Find the aroma for you in our options of Lavender Chamomile, Cool Spearmint & Thyme™ or Heavenly Coconut Crème™. Or all three! Whatever brings you relaxation is what you deserve during this festive (and sometimes hectic) time of year.
2.

Indulge in Nourishing Bath Products
Moisturizer is an important thing to add to your collection of luxury body products. Relaxation must be part of your daily routines, especially during the holidays, and taking care of the body is one of the best ways to do that. When you take care of your body, you also take care of your mind and the spirit. Vitabath® offers many lotions that come in a blend of different vitamin-infused scents. You will achieve the clearest and healthiest results if you use the lotion after you take your hot, relaxing shower or wonderfully soothing bubble bath.
3.

Positive Environment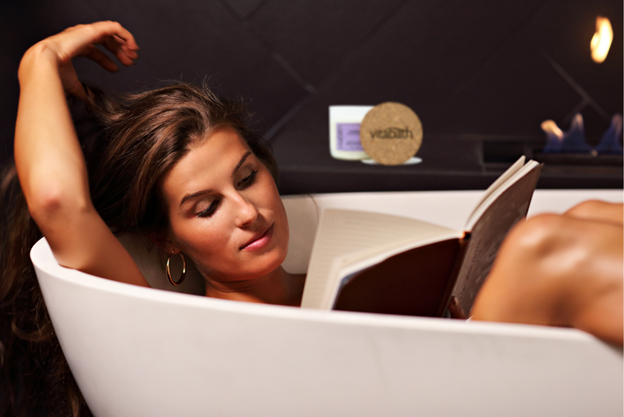 Lighting candles, ensuring there is ambient lighting, having a favorite book or music playing nearby and a glass of cold water will improve the experience even more. Our 3-wick 14-oz. candles come in a selection of scents like Lavender Chamomile to soothe you before bed or Heavenly Coconut Crème™ or Pomegranate Bellini Blush™ to uplift you at the start of the day for a relaxing bath whenever works best for you. Creating a positive environment is important when relaxing the mind, body and spirit. A clean body equals a clear spirit, mind and soul. This will then create a happier and fuller life as your stress melts away in a luxurious bath.
4.

Relaxing Bath Tips for Every Day
Hopefully, you feel more relaxed knowing how to enhance your bubble bath and relaxation experiences during the holidays and year-round. For the day-to-day, you can improve your shower experience by adding shower gelée to your collection. These will moisturize your skin while surrounding you with a sweet, soothing scent to help you unwind. Our shower products are filled with necessary vitamins and sweet smells such as invigorating Original Spring Green™, Plus for Dry Skin™, Spa Skin Therapy™, Fresh Citrus Twist™ and warm, floral Orchid Intrigue™. Relaxing will make your life that much sweeter too, especially when you know you're taking care of yourself to give your best every day.