How to Use Body Oil — Vitabath®
The skin-conditioning benefits of body oils are often an unexplored beauty secret. Many people may be confused about how to apply body oil products and misconceptions and myths swirl around its use. Still others may be concerned about its messiness.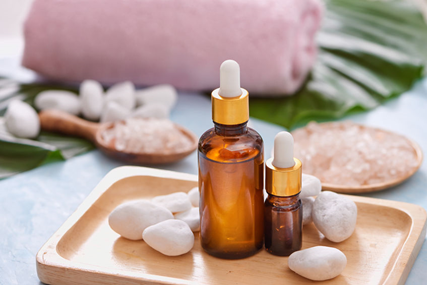 Are you a body oil newbie and ready to delve into the world of body oils? Let us help you demystify body oil so you can learn how to effectively use this fantastic product to your advantage. Learn how to use body oils to help treat dry patches, to promote relaxation and to help give your skin an all-over, luxurious at-home spa treatment that will leave you glowing.
Target Dry Patches
Vitabath body oils are an excellent way to target extra-dry skin. Whether those spots are on your elbows, your legs or on your arms, the sesame, sunflower, coconut and argan oils in our body oil formulas will help soften and deliver much-needed moisture to your skin. Apply our oils directly to damp skin or use our body oil sprayer pump after your bath or your shower, taking extra care to massage the oil into places that need it the most. For all-day moisturizing and an extra glow, add a drop or two to the shins of your legs. This trick not only keeps your legs from becoming ashy, dry and/or flaky, it also illuminates this part of your legs for a beautiful, elongated and shimmery look that catches the light when wearing skirts or shorts.
All-Over Deep Conditioning for Radiant, Glowing Skin
As an all-over treatment for dry, flaky skin, our body oil can be added to a bath to envelope you in a sweetly scented luxurious experience. While you soak away your day, our body oil will soften, attend to and moisturize your skin — from the tips of your toes to the top of your neck. Let this deeply moisturizing treatment carry you away.
The result? Luxuriously soft, supple skin from your head to your toes. Reach for Vitabath body oils instead of your lotion in the summer for a deeply moisturizing experience that lasts all day. Body oils have a lighter finish than lotions, which is often a welcome feeling in sultry summer heat, particularly when our refreshing Cool Spearmint & Thyme™ Body Oil is used.
Promote Relaxation
Scents affect us in a powerful way because our olfactory systems are directly connected to the emotional and memory centers of the brain. They bring help relax us, activate memory centers in the brain and affect how we feel. Scents are a quick, easy way to pick us up or, alternatively, help us unwind.
Our body oils are available in several scents — from relaxing Lavender Chamomile Body Oil, comforting Heavenly Coconut Crème™ Body Oil to energizing Cool Spearmint & Thyme™ Body Oil that will help you put a spring in your step and get you ready for your day. Add our body oils to your morning or evening routines to help you achieve your mood, calming or energizing goals. Apply body oils to your skin after your morning or evening shower or bath, focusing on any dry skin you may have, to reap the benefits of aromatherapy that our body oil blends provide.