Relaxation is the Best Valentine's Day Gift for Your Loved One
With all that's going on in the world, if you're looking for the perfect gift for your Valentine this year, you might want to consider getting them something that will help them relax. Nothing says you care like giving your loved one a way to de-stress and unwind after a long day.
Here at Vitabath®, we have the relaxing gifts for everyone that will make this Valentine's Day memorable and special. Here are some of the best gifts for this year's romantic holiday:
Bubble Bath
Bubble baths and relaxation just go together. It's hard to feel stressed and tense when soaking in a warm tub surrounded by decadent scents. No matter what your loved one went through during the day, help them wash it all away.
If you're loved one has been looking forward to a tropical vacation, but you've been unable to get away because of the pandemic, then Heavenly Coconut Crème™ Bubble Bath will make them feel like they are lounging on the beach without ever having to leave the bathroom.
Is your loved one feeling rundown as well as stressed? Then help them re-energize with Cool Spearmint & Thyme™ Bubble Bath. This bubble bath not only helps with relaxation, but the crisp scent of spearmint mixed with eucalyptus will help clear their mind and focus on the Valentine's celebration instead.
After your Valentine has indulged in a bubble bath, it will make it easier to get ready for whatever you might have planned. Going out to dinner? Planning on staying in for take-out and binge watching? Either way, they'll be happy you planned time for them and be relaxed and rejuvenated and appreciate the time together.
Body Oil
When it comes to relaxation gifts for your Valentine, perhaps you feel a more hands-on approach is in order to help them de-stress. If you are planning on giving your loved one a special Valentine's Day massage, then you'll want to make sure you have body oil.
Our Lavender Chamomile Body Oil is the right choice when it comes to keeping your loved one's skin soft and hydrated while you ease her tense muscles. It can also be used on a daily basis to keep their skin looking radiant. It's an at-home luxury that can be used for special occasions and beyond!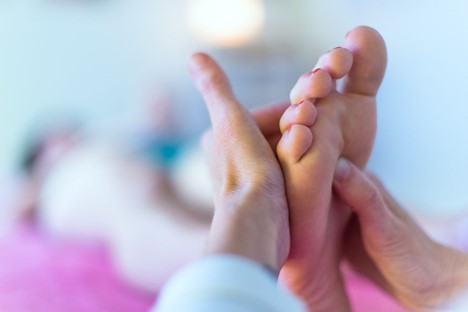 Foot Care
While full-body massages can be an amazing Valentine's Day gift, for the woman or man in your life who spends a lot of time on their feet, consider treating give them a foot massage. We offer both lotions and scrubs that are soothing and show your Valentine's how much you care.
Like the body oil, these products can be used on a daily basis to ensure your loved one feels pampered and looks great. It's a gift that's perfect for Valentine's Day and one that keeps giving after the after the holiday.
We Know Relaxation
If you are searching for the perfect Valentine's Day gifts, consider getting something that helps them forget about their current worries and stresses. Once you've gotten those issues out of the way, you can ensure that the focus will be entirely on the two of you.
Valentine's Day is the holiday where you let your loved one know how much you care, and you can find the products that will help with that endeavor at Vitabath®. Shop our selection today!