Relaxation Tips for the Holidays at Home - Vitabath®
Pampering the body and taking care of the skin are some of the best ways to relax and unwind this holiday season. In your time off, take heed of these holiday relaxation tips to truly enjoy the break from your daily routine and recharge from a truly trying year. At Vitabath®, we're proud that an at-home spa experience is an affordable indulgence. Follow our guide to help alleviate some holiday stress and pamper yourself.
1.
Add a relaxing scent to your daily routine.
One of the easiest ways to relax is to enhance your daily routine with a soothing scent. Choose daily cleansers, moisturizers and fragrances with scents that relax your body and mind, and you'll reduce your stress even if you don't have time for a luxurious bath.
Our Original Spring Green™ scent is a customer favorite, with its clean aroma blend of pine, rosewood and patchouli. We offer a full line of products, each with skin-enriching botanical ingredients like biotin, horse chestnut extract and sunflower oil, plus three vitamins. Try the Original Spring Green™ Bath & Shower Gelée, moisturizer or even our cool fragrance mist to start your day off right.
Our Lavender Chamomile scent is also a great choice, with its calming lavender and chamomile, plus a hint of vanilla. Or you might like our Luscious Lemon Cream™ scent. reminiscent of a warm lemon cupcake drizzled with cream and powdered sugar, or fruity Pomegranate Bellini Blush™.
Experiment with the right scent to get you into relaxation mode by checking out our shop by scent page.
2.
Indulge in nourishing bath products.
While a shower is the quickest way to get clean, you might consider a slower, more relaxing bath when you have the time. Vitabath can help you treat yourself to a luxurious bath infused with skin-enriching botanical products and vitamins.
Explore our line of foaming bath bombs and treat yourself to a relaxing bath after a long day shopping or preparing food. Enjoy a luxurious soak in the lathering foam that forms after placing one of our bath bombs into warm water. Choose from inviting scents like Coconut Noir™, Cool Spearmint & Thyme™, Cucumber & White Tea, Heavenly Coconut Crème™, Lavender Chamomile or Pomegranate Bellini Blush™.
If foaming baths aren't your cup of tea, you might try our bath fizzies, infused with Epsom salts, which reduce inflammation and include moisturizing coconut and grapeseed oils that will leave your skin feeling silky smooth. Available in the same scents are our bath bomb, fizzies can make bath time more relaxing and even better for the skin and body.
3.
Moisturize.
Especially during the holiday season, when the air outside may be brisk, you need to remember to moisturize your skin and take care of it. Vitabath offers many lotions that come in a blend of different vitamin-infused scents. Choose the scent that best fits your personality. You will achieve the clearest and healthiest results if you use the lotion after you take your hot, relaxing shower or wonderfully soothing bubble bath.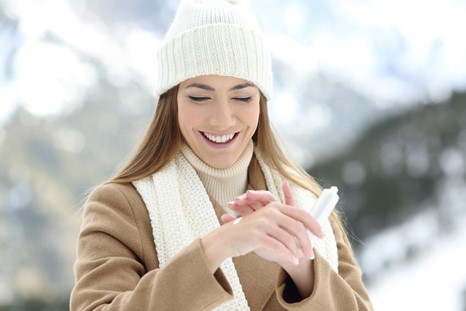 4.
Set the scene.
After the last gift has been purchased and wrapped, or the last batch of cookies is decorated, set the scene for some relaxing time for yourself. Vitabath's three-wick 14-ounce candles provide ambient lighting plus a wonderful scent for an evening with a good book, or even that bath we talked about earlier. Try out scents like Lavender Chamomile to soothe you before bed, or pick between Heavenly Coconut Crème™ or Pomegranate Bellini Blush™ to uplift you at the start of the day.