Step-by-Step Guide to Bathing Your Baby - Vitabath®
You probably bathe or shower so often that you hardly think about how to do it. But bathing your baby is whole new experience!
Bath time is a wonderful opportunity to do more than clean your bundle of joy — it's a time to bond through touch, trust and warmth. And even though it may seem like the most natural thing in the world, knowing how to give a baby a bath is not necessarily intuitive.
We get it. There are so many questions around being a new parent that bathing your baby may not come up until it's clear those disposable wipes aren't getting the job done.
We put our 60-plus years of parenting and skin care expertise to work to help you make bath time a fun, safe, meaningful experience for both you and your wee one.
Here are our answers to your questions and a step-by-step guide to bathing your baby:
How Often Should You Give a Baby a Bath?
Newborns who still have their umbilical cords attached should not be bathed in a tub. A sponge bath on the changing table or in a shallow basin will suffice until the stump falls off. Because babies don't really sweat much, bathing two to three times a week is generally often enough. Bathing too often can dry out their delicate skin. If they get a faceful of birthday cake or otherwise obviously messy, a quick spot-clean with a damp cloth should do the trick.
How to Give a Baby a Bath:
Create a safe space. Whether you're using the sink for a wee one or the big tub for an 8-month-old, make sure the area is as safe as possible. For babies 5 to 10 months old, you can use a bath seat that meets U.S. Consumer Product Safety Commission standards. For older babies, place a nonslip pad in the tub and make sure potential hazards like the faucets are covered. Also set the temperature of the bathroom at a toasty 75 to 80 degrees Fahrenheit so your little one won't be chilled.
Gather everything you'll need. Once that bundle of joy is in the water, you cannot step away even for a second. Babies can drown quickly in only a few inches of water, so you'll need to be right there with your peanut through the entire bath. Here's what to gather ahead of time:
3. Prepare the water. Place baby in a bouncy swing, crib or other safe spot while you do this. Starting with the cold tap and adding hot as you go, fill the tub with just a few inches of warm — not hot — water. Test with your wrist or elbow, and if it feels hot, add more cool water.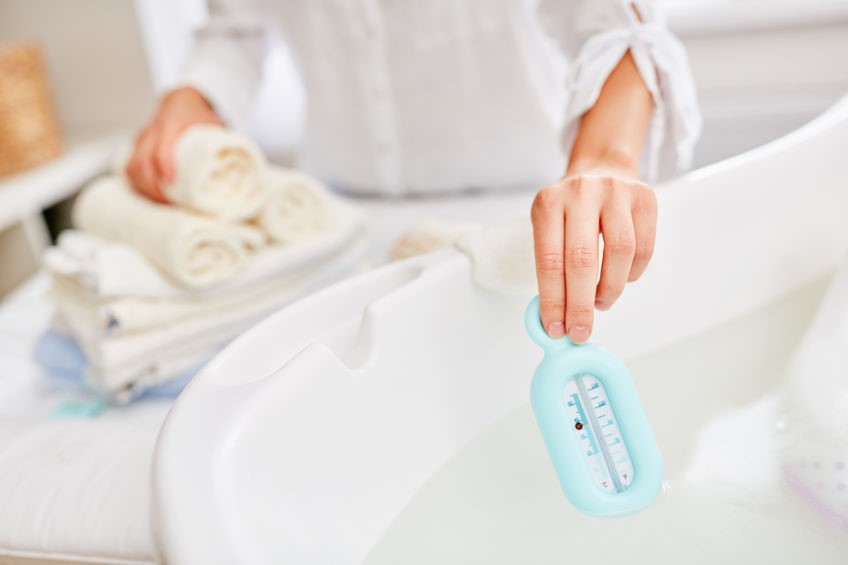 4. Put baby in the water — not in the corner! Cradle your baby in one arm with their head in your elbow crook and that hand supporting their bottom. Steady their torso with your other hand and gently lower them feet-first into the water. Hold them firmly so they feel safe. If you'll be bathing together, place your baby in a bouncy seat by the tub, sit in the water yourself, then reach for your little one — or better yet, have your partner help by handing them in. Never step into the tub while holding your baby.
5. Clean from the top down. Clean baby's face first. A cotton ball is nice and soft on those cherubic cheeks, but a soft washcloth is okay too. Rub gently, never scrubbing, making sure to clean those adorable folds around their neck. Work your way down to their bottom and then to their toes, gently sudsing each area. Rinse often with warm bathwater to keep them from getting chilled. Save the shampooing for last so your baby doesn't get dry skin from soaking in suds for too long. Use only a drop or too of tear-free shampoo on those silky locks, and shield your baby's eyes as you rinse toward their back with a cup or your cupped hand.
6. Have fun! Engage with your baby during bath time by cooing, singing or chatting with them about their body parts. Whether you're in the tub with them or not, this is a special time of bonding with your child. Older toddlers benefit from bath toys that keep them in the suds longer, but wee babes need only your touch and attention.
7. Wrap it up. As soon as your baby is rinsed and clean, lift them out of the tub and wrap them in a warm, dry towel — one with a hood keeps that sweet little head nice and toasty.
8. Prevent dry skin. Before diapering and dressing your fresh, clean baby, massage a high-quality natural moisturizing lotion into their skin from toes to earlobes. This will lock in moisture and prevent dry skin. Baby wash and lotion scented with lavender can add a calming effect that makes post-bath naptime even sweeter.
Best Baby Bath Products
The best products to keep your baby clean, healthy and happy are gentle, hypoallergenic and natural. We put all 60-plus years of our skin care experience into developing two lines of Vitabath® BABY skin care products that are pediatrician and dermatologist tested. Our 98% natural formula includes Colloidal Oatmeal for extra gentleness on delicate skin, and we left out all the nasties, like sulfates, parabens, dyes, soy, gluten, propylene glycol, phthalates and aluminum. Our BABY Soothing Relief Creamy Wash and Soothing Relief Moisture Lotion are fragrance free, and our BABY Daily Wash & Shampoo and Daily Lotion contain natural lavender essential oils for a calming aromatherapy scent.