The Best Way to Get Rid of Dry Skin on Feet
Dealing with dry, cracked skin on your feet can be challenging. It may be unsightly to have dry skin on your feet, and it may also deter you from wearing sandals or strappy heels. However, it's also incredibly natural. Your feet shed dead skin so that new skin can take its place, but this doesn't mean you have to live with it.
Even if you moisturize your feet on a regular basis, you may still find you have to deal with cracked skin. If you are wondering how to get rid of dry skin on feet, there are some things you can try.
1. Soak Your Feet
Most of the time, the dry skin on your feet isn't painful, it just looks terrible. To make removing this easier, the first thing you should consider trying is soaking your feet. Not only will this soften your skin, but it can also be a relaxing experience.
You'll need to use lukewarm water, and you'll also want to add some type of moisturizer. This can be a body oil or even some Epsom salts. Either option will give your dry skin some much-needed moisture.
2. Use an Exfoliator
When it comes to the best way to get rid of dry skin on feet, you'll want to exfoliate. There are many different ways to achieve this goal, but the best product to use is a foot scrub. At Vitabath®, not only do our foot scrub products remove dry skin from your feet, but they also include added moisturizers to keep your skin supple.
Exfoliation is a tried-and-true routine that removes dead skin from every part of your body, and using a product that is specially formulated for your feet will ensure this tough, unsightly skin is taken care of. You might consider exfoliating right after you've soaked your feet, as the skin may be easier to remove.
3. Apply a Moisturizer
After soaking or exfoliating your feet, you'll then want to apply a moisturizer. Finding one that has been specifically formulated for the skin on your feet is imperative, and we have just what you're looking for at Vitabath®.
Our moisturizers are ideal for use in combination with our foot scrubs, or they can be used on their own. No matter when you apply this moisturizer, it won't be long before you notice newer, softer skin.
Moisturizing your feet while you sleep can also help get rid of dry skin and cracks. After applying the foot moisturizer, you'll then want to pull on a pair of socks. This will help the lotion stays in place so that your skin gets the hydration it needs to look amazing.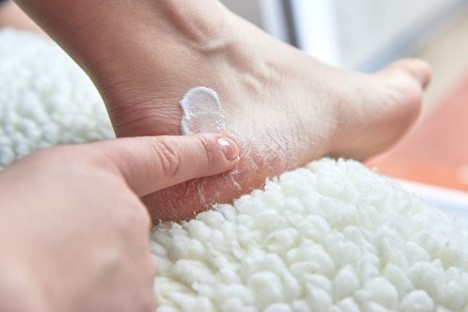 Pampering Your Skin
If you are asking how to get rid of dry skin on your feet, you need to use the right products. But making sure your feet are moisturized properly doesn't have to be hard. At Vitabath®, we offer products that are easy to use but are also decadent. When you use our foot care products, you'll feel like you've stepped into a spa, without ever having to leave home.
It's never too early or too late to pamper your skin. Shop our site to find the products that will make you look and feel extraordinary!