Why is Self-Care Important?
Between family, work and friends, it probably seems like you don't have a minute to yourself. There are so many things that need to be done, and most of the time, it feels like there aren't enough hours in the day to take care of everything. If you're like most people, then engaging in self-care is low on your list.
The Importance of Self-Care
For many, the thought of taking time out of their day to focus on themselves seems selfish — but it's not. In fact, self-care is necessary. If you don't take care of yourself, there's no way that you are going to be able to take care of anyone else.
Participating in self-care has been found to reduce stress, depression and anger. Self-care gives you the opportunity to step away from the things that make you upset or frustrated so that you can reset and refocus. Besides helping you feel better, lowered stress levels have also been found to support a reduced risk of illness.
When it comes to the importance of self-care, anything you can do to improve your mental, emotional and physical health is recommended. Here are some reasons why self-care is important:
Makes You Better at Taking Care of Others
If one of the reasons why you don't take the time for self-care is because you have others that need to be taken care of (especially kids), then you need to realize that self-care makes you a better caregiver. Taking care of others without a break for yourself can make you feel burnt out. There's also the chance it will lead to feelings of resentment, unhappiness and low self-esteem.
If your stress levels get too high for an extended period of time, this also lowers your immune system. This could increase your risk of getting sick. If that happens, you won't be able to take care of anyone.
Improves Your Overall Health
Stress wreaks havoc on your body, and impacts your physical, emotional and mental health. Stepping away from the daily grind and spending some alone time is essential when it comes to improving your overall health.
Indulging in Self-Care
Life gets busy, and the thought of taking time out of your day to focus on yourself might seem impossible. However, self-care doesn't have to mean an afternoon at the spa or a weekend at the beach (although it could!). Even taking 10 minutes a day can be beneficial to your overall wellbeing.
When it comes to self-care, here are some activities you can engage in: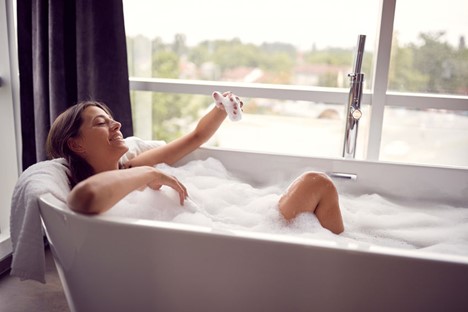 Bubble Baths
Probably the most common and easiest self-care activity you can do is take a bubble bath at the end of the day. A warm, lathering bath helps you relax and unwind, and using the right bubble bath will also ensure that your skin is cleansed and hydrated with premium ingredients that have you stepping out of the tub feeling relaxed and rejuvenated.
Meditation
Spending part of your day in complete silence is a great way to get in touch with your thoughts and feelings. To make the moment even more luxurious, consider adding a scented candle. Choose a fragrance that helps you escape into serenity for a short amount of time so that you can come back feeling focused and ready to take on any task.
The Best Self-Care Products
At Vitabath®, we're glad to offer a wide variety of products to help you in your self-care journey. Whether you're looking for items to help you relax or will leave you feeling refreshed and recharged, check out our selection today!